Oakland 26/10/2007 Oracle Arena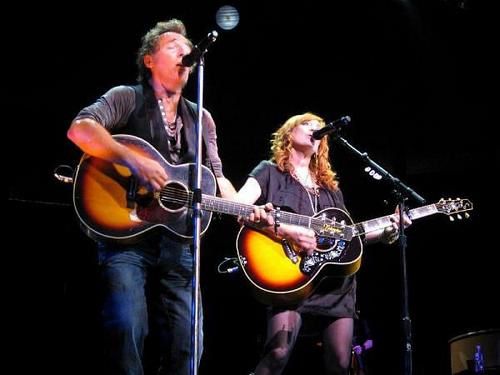 01. Radio Nowhere
02. No Surrender
03. Lonesome Day
04. Gypsy Biker
05. Magic
06. Reason to Believe
07.

Two hearts


08. She´s The One
09. Livin' in the Future
10. Promised Land
11. Tunnel Of Love
12.

Racing In The Street


13.

Workin on the Highway


14. Devils Arcade
15. The Rising
16. Last to Die
17. Long Walk Home
18. Badlands
*********************
19. Girls on the Summer Clothes
20. Thundercrack
21. Born to Run
22. Dancing in the Dark
23. American Land



Que d'emotions hier a Oakland avec un Springsteen conquerant et particulierement genereux au niveau des tour premiere .
En effet Bruce proposa pas moins de 3 inedits et non des moindres regardez je vous laisse apprecier
Two hearts
,
Racing in the street
ainsi que l'envoutant
Working on the highway
.
Bruce dedicaca
Girls in the summer clothes
au filles de Californie , selon les fans presents la voix de Patti et du boss etait parfaitement en accord et dans le meme tempo sur
Tunel of love
( quelques souvenirs en commun peut etre a partager )
la tendance semble se confirmer pour assister a des surprises de tailles vaut mieux etre la le second soir .
Le 29 et 30 Octobre Bruce et le E street band seront a Los angeles pour nous donner de nouveaux frissons.
Enfin pour finir je vous propose ce diaporama de 71 photos sur les 2 shows de Oakland realise par un fan du forum Backstreets Merci a lui .