Pittsburgh 14/11/2007 Mellon Arena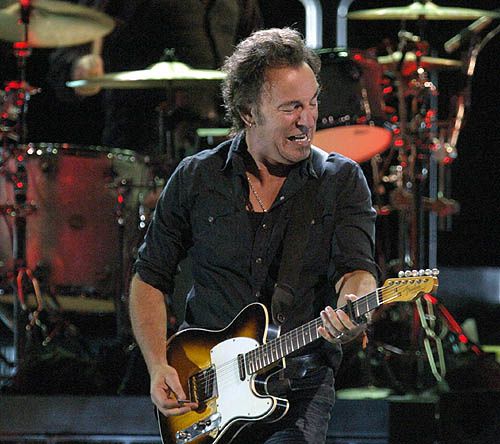 Radio Nowhere
The Ties That Bind
Lonesome Day
Gypsy Biker
Magic
Reason To Believe
Night
She's The One
Livin' In The Future
The Promised Land
Code of Silence (with Joe Grushecky) Tour Premiere
Backstreets
Working On The Highway
Devil's Arcade
The Rising
Last To Die
Long Walk Home
Badlands
Youngstown Tour Premiere
Girls In Their Summer Clothes
Kitty's Back
Born To Run
Dancing In The Dark
American Land
Patti etait absente hier soir a Pittsburgh pour ce nouveau show du Magic tour .
Mais un bonne ami du patron etait present pour partager une nouvelle tour premiere avec
Code of silence
en la personne de Joe Grusheky , Cette chanson a ete coecrit par Bruce et ce monsieur en 2000 , elle est paru sur le triple cds The essential Bruce Springsteen collection en 2003 .
Backstreets
fut jouee a la demande d'un spectateur , Mais le moment le plus surprenant fut quand Bruce commenca a demarrer l'intro de
Girls in the summer clothes
et quil s' arreta en disant si on faisait quelque chose d'inedit ce soir il changea de guitare et commenca en acoustique
Youngstown
comme au plus belle heures du Tom Joad tour en 1996 .
Sinon on peut noter que la disparition de
Thundercrack
s'eternise esperons que le Boss l'a ressortira sous peu.
Demain soir Springsteen et son E street band seront a Albany pour un nouveau show .