Hartford Civic Center 28/02/2008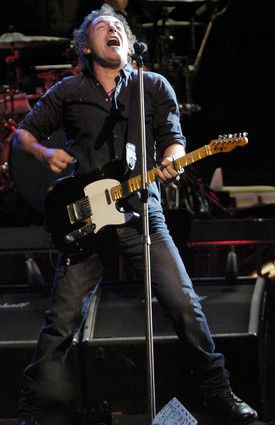 1. So Young And in Love
2. Radio Nowhere
3. Lonesome Day
4. Gypsy Biker
5. Magic
6. Reason To Believe
7.
Loose ends
8. She's The One
9. Living In The Future
10. The Promised Land
11. Waitin On A Sunny Day
12. Janey Don't you lose Heart
13. The River
14. Devil's Arcade
15. The Rising
16. Last To Die
17. Long Walk Home
18. Badlands
19. Girls In Their Summer Clothes
20. Backstreets
21. Kitty's Back
22. Born To Run
23. American Land
Pour commencer je vous propose un petit diaporama realise par RRing 58 Merci a lui
en cliquant
Ici
Apres presque 3 mois loins des routes et de la scene , Le boss et son E street band etait de retour pour un second leg qui s'annoncent tonitruant .
Et des hier les hostilites etait ouverte avec la presence dans le set de 3 tour premieres que sont
So young and in love
,
Janey don't you lose heart
et
Loose ends
3 chansons issues de divers sessions d'enregistrements en studio avec le E street band , Vous pouvez retrouvez ces 3 petites merveilles sur le coffret de 4 cds intitules Tracks sortie en 1998 .
On peut signaler le retour de Backstreets qui n'avait plus ete jouee depuis Bilbao c'etait le 26 novembre 2007 .
Rendez vous d'ores et deja a Montreal le 2 Mars pour les nouvelles avantures de Springsteen et du E street band .