Helsinki Olympia Stadion 11/07/2008
Credit Photo / Hannu Kivimaki
1. Night
2. Out In The Street
3. Radio Nowhere
4. No Surrender
5. Hungry Heart
6. Spirit In The Night.
7. Summertime Blues
8. Sherry Darling
9. 4th of July, Asbury Park (Sandy)
10. I'll Work For Your Love
11. Candy's Room
12. Youngstown
13. Murder Incorporated
14. The Promised Land
15. She's The One
16. Livin' In The Future
17. Mary's Place
18. Point Blank
19. The Rising
20. Last To Die
21. Long Walk Home
22. Born In The U.S.A.
23. Badlands
Encore:
24. Girls In Their Summer Clothes
25. Tenth Avenue Freeze-Out
26. Born To Run
27. Rosalita
28. Dancing In The Dark
29. American Land
30. Santa Claus Is Coming To Town
31. Twist And Shout
Hier Soir le Boss a achevait sa serie de Concerts Marathon en Scandinavie
avec une dernier escale a L'olympia Stadion de
Helsinki devant plus de 55000 Spectacteurs .
Comme A Oslo le 08/07
Bruce est rentre sur
Night
suivi de
Out in the street , Radio Nowhere
et
No Surrender
Cette derniere chanson remplaca
Adam Raised
a Cain
par Rapport au dernier show .
Apres avoir ete Place dans les Rappels
lors du dernier show ,
Hungry Hear
t est reapparu en 5 eme Position
Juste devant le Mythique
Spirit in the Night
.
Par la suite enchainement Tres inedit avec
Summetime blues
et
Sherry darling
.
Sherry darling n'avait plus ete jouee depuis le 21/06/08 c'etait a Hambourg .
Youngstown
travaille dans le soundcheck depuis un petit moment a Trouve preneur aupres du Boss .
Son enchainement avec
Murder Incorporated
n'est pas sans Rappeler
un certain Live in New York City Paru en 2001 .
Into th Fire
egalement travaille sur le Soundcheck et ecrit sur le set Manuscrit
a ete Rempace sur Request par
Point Blank
.
Born in the Usa
semble s'installer durablement apres avoir ete ignore
Par Springsteen un long tres long moment .
En ce qui concerne le Rappel
Un grand Moment s'est produit a l'olympia Stadion .
Hormis les Retours de
Rosalita
et de
Tenth avenue Freeze out
.
Steve Van Zandt le Guitariste du Boss a apercu au loin .
Une pancarte avec inscrit Santa va venir a Helsinki
il en fit part au Patron qui demanda instatanement au public Finlandais .
" Est ce que vous avez envie d'entendre
Santa Claus Is Coming Town
"
le chaud public Helsinki repondit avec un YesSS general .
Un moment rempli de Generosite qui represente a lui tous seul ce Magic Tour 2007 / 2008 .
Springsteen clotura ce show avec un
Twist and Shout
endiable
qui raviva les fans .
Au total 31 Chansons , des grands moments .
Des Fans Heureux avec un large sourire a la sortie .
Une chose que l'on voit tres souvent a la sortie des concerts de ces petits Gars du New Jersey .
Avec 6 prestations de Haut vol en scandinavie et devant un total de 250000 Spectateurs .
Springsteen a demontre qu'il ny avait decidement q'un seul Patron .
Des Mardi a San Sebastian Bruce et le E street entameront une serie de 4 concerts en Espagne
qui marquera la fin du Magic Tour en Europe .
Pour Finir 3 Chansons en qualite Pro shot .
Night , Out in the street et Radio Nowhere
Bon visionnage a Tous .
Le Boss devant son Hotel a Helsinki
Credit Photo / Hannu Kivimaki

Nouvelle Photo devant l'hotel Kamp a Helsinki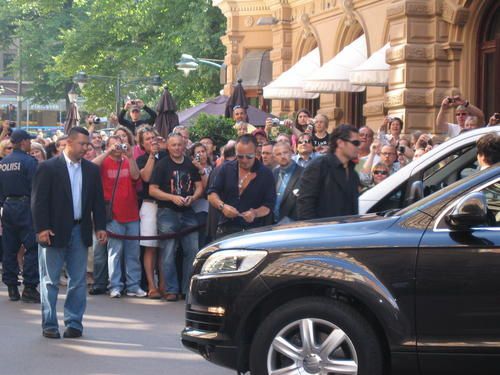 Credit Photo / Shenandoah et Chris 64


Credit Photo / Reuters