Charleston North Charleston Coliseum 16/08/2008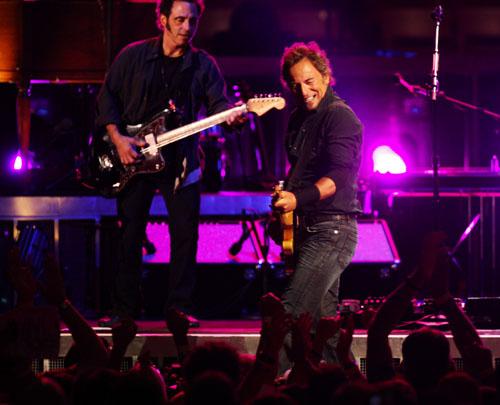 Credit Photo / Alan Hawes


1.
Double Shot of My Baby love's
2. Radio Nowhere
3. Out In The Street
4. Two Hearts
5. Spirit In The Night
6. Light of Day
7. Growin' Up
8. Janey Don't You Lose Heart
9. No Surrender
10. Atlantic City
11. Because The Night
12. She's The One
13. Living In The Future
14. Mary's Place
15. Hungry Heart
16. The Rising
17. Last To Die
18. Long Walk Home
19. Badlands
20. Streets of Fire
21. Jungleland
22. Born To Run
23. Rosalita (Come Out Tonight)
24. Dancing In The Dark
25. American Land
26. Twist & Shout
Le Boss a frappe un grand coup sur les Stats du Magic Tour .
Springsteen a offert au Spectacteurs presents dans le Charleston Coliseum .
Une Tour Premiere de tres tres Haute volee avec le Titre
Double Shot of My Baby Love's
.
Un titre que Bruce et le E Street Band avaient deja interpreter a 2 Reprises
au Cours de leurs tres Longues carriere .
La premiere fois que ce Morceau fut jouee c'etait le 09/09/1978 a South Bend pour le Darkness Tour et la seconde
Fois Toujours a South Bend le 26 Janvier 1981 cette fois a l'occasion du River Tour .
Rappelons tout de meme que ce Morceau a ete ecrit par Don Smith & Cyril Vetter et interpreter
par les Dick Holler and the Holidays puis par les Swingin' Medallions ainsi que par les K-Otics .
Springsteen Profita de ce show pour ressortir quelques oublies du Magic Tour comme
Light of Day
interprete pour la 4 eme fois depuis l'ouverture de la Tournee .
Un autre retour qui a du faire plaisir a plus d'un Fan l'immense
Streets Of Fire
Trop peu a mon Gout sollicite sur ce Magic tour
Et oui en comptant Charleston 2 malheureuse interpretation sur ce Tour Pas enorme !!!!!.
Twist and Shout
a une nouvelle fois clot les Debats pour le Plus Grand Bonheurs des Fans .
Prochaine etape pour le Boss et ses Acolytes Richmond le 18/08/2008 .
Credit Photo / Alan Hawes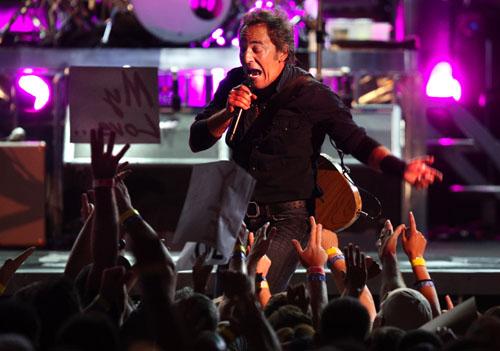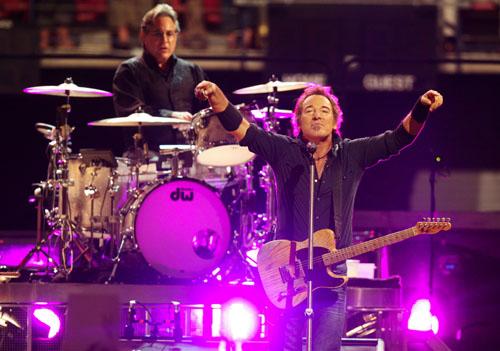 Credit Photo / Alan Hawes