londres royal albert hall 28 mai 2005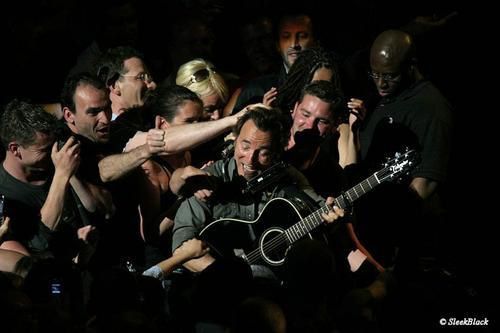 Pour cette seconde nuit à Londres, Bruce a apporté sept changements dans sa setlist. Empty Sky a en effet remplacé Lonesome Day, Silver Palomino l'a été par Black Cowboys, Tougher than the Rest par Two Faces, Maria's Bed par All the Way Home, Cautious Man et Nebraska par The Line, The Wish par Real World, enfin Racing in the Street a été jouée en lieu et place de Paradise.
Par contre, les dix dernières chansons du concert ont été les mêmes que la veille. A noter que Bruce est apparu plus disert, plus détendu et plus enjoué aussi.
Prochaine étape à Bruxelles, la nuit du Memorial Day.
My Beautiful Reward** / Reason to Believe / Devils & Dust / Empty Sky / Long Time Comin' / Black Cowboys / The River* / Two Faces* / Part Man, Part Monkey / All the Way Home / The Line / Reno / Real World* / Racing in the Street / The Rising / Further On (Up The Road) / Jesus Was an Only Son* / Leah / The Hitter / Matamoros Banks // Ramrod / My Best Was Never Good Enough / The Promised Land / Dream Baby Dream**
* = piano, ** = orgue