denver Lecture Hall at the Convention Center 7 mai 2005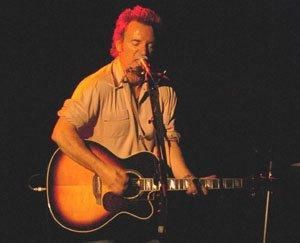 Tout comme lors des concerts précédents, Springsteen continue de ne jouer que les trois-quarts de l'album Devils & Dust chaque soir. Il semble par contre apporter beaucoup d'attention à revisiter d'anciennes chansons, telles Real World, Cautious Man ou encore The Promise (souvent jouées pendant le Rising Tour en 2002), précédant directement My Hometown.
A noter encore les 5 chansons jouées lors des rappels, portant le total à 26 pour ce concert à Denver.
My Beautiful Reward**/Reason to Believe/Devils & Dust/Youngstown/Empty Sky/Long Time Comin'/Silver Palomino/For You*/Real World*/Part Man, Part Monkey/Maria's Bed/Cautious Man/Reno/The Promise*/My Hometown*/The Rising/Further On (Up the Road)/Jesus Was an Only Son*/Leah/The Hitter/Matamoros Banks//Johnny 99/This Hard Land/Waitin' on a Sunny Day/My Best Was Never Good Enough/The Promised Land
* = piano
** = orgue