cleveland CSU Convocation Center 15 mai 2005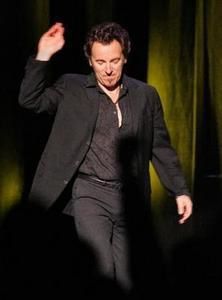 Retour de quelques fameuses oldies dans la setlist : Wreck on the Highway, Racing in the Street et surtout Stolen Car, jouée pour la toute première fois au piano. Assurément le moment fort de la soirée.
Youngstown a évidemment été jouée pour ce concert dans l'Ohio. A noter aussi que Springsteen semble avoir trouvé un rappel qui lui plaît, car Dream Baby Dream a une fois de plus conclu le concert.
My Beautiful Reward**/Reason to Believe/Devils & Dust/Youngstown/Lonesome Day/Black Cowboys/Incident on 57th Street*/Stolen Car*/Part Man, Part Monkey/Maria's Bed/The Line/Reno/Wreck on the Highway***/Racing in the Street*/The Rising/Further On (Up the Road)/Jesus Was an Only Son*/Leah/The Hitter/Matamoros Banks//I'm on Fire****/Land of Hope and Dreams/The Promised Land/Dream Baby Dream**
* = piano
** = orgue
*** = piano électrique
**** = banjo