Philadelphie Tower Theatre 17 mai 2005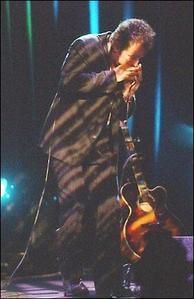 Ainsi qu'il l'avait fait voici 30 ans lors de la tournée Born to run, et plus récemment pour The Ghost of Tom Joad Tour, Springsteen s'est une nouvelle produit au Tower Theater de Philadelphie.
Malgré la nostalgie attachée à cette salle, le Boss n'a pas joué beaucoup de vieux titres, hormis Incident on 57th Street et ce titre, The Iceman, qu'il présenta ainsi : "Voici quelque chose que j'avais composé pour l'album Darkness et que j'ai pas encore interprété en public… un truc spécial pour The Tower."
A noter aussi pour lancer les rappels, une version remaniée de Ramrod à la guitare acoustique et à l'harmonica.
"All the way home" jeudi pour Springsteen qui retrouvera son New Jersey natal.
My Beautiful Reward**/Reason to Believe/Devils & Dust/Youngstown/Empty Sky/Black Cowboys/The Iceman*/Incident on 57th Street*/Part Man, Part Monkey/Maria's Bed/Silver Palomino/Reno/Wreck on the Highway***/Real World*/The Rising/Further On (Up the Road)/Jesus Was an Only Son*/Leah/The Hitter/Matamoros Banks//Ramrod/Land of Hope and Dreams/The Promised Land/Dream Baby Dream**
* = piano
** = orgue
*** = piano électrique