Chicago 13 octobre 2005 - United Center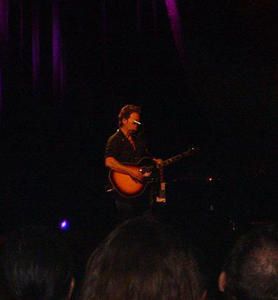 De retour à Chicago, là où il avait chanté pour la première fois Dream Baby Dream, le 11 mai, Bruce n'a pas offert de Tour Premiere cette fois-ci. Ce fut malgré tout un concert solide. Bruce était très concentré sur son sujet, notamment lors de This Hard Land, où sa voix fut exceptionnelle. Le Boss s'offrit même un moment de rire en interprétant All I'm Thinkin' About, car il dut répéter plusieurs fois certains vers afin d'obtenir le résultat souhaité. A la fin de la chanson, le public lui réserva des applaudissements nourris pour cet effort.
Autres temps fort : I Wish I Were Blind, State Trooper, Highway Patrolman, When You're Alone et la toujours bienvenue Racing in the Street au piano.
Au chapitre des instruments exotiques, The New Timer à l'autoharp a pris la place une fois de plus de The Hitter, tandis que Growin' Up à l'ukulélé ouvrait la séance des rappels.
Malgré les recommandations répétés de Springsteen lors de ses concerts précédents, la ruée vers la scène se produisit inexorablement en fin de concert en dépit des services de sécurité...
Setlist 13/10: Idiot's Delight / Living Proof** / Devils & Dust / The Ties that Bind / Long Time Comin' / I Wish I Were Blind* / Tougher Than the Rest* / Johnny 99 / State Trooper / All I'm Thinkin' About / Ain't Got You / Highway Patrolman / Reno / When You're Alone* / Racing in the Streets* / The Rising / Further On (Up the Road) / Jesus Was an Only Son* / This Hard Land / The New Timer / Matamoros Banks // Growin' Up / Bobby Jean / The Promised Land / Dream Baby Dream**
* = piano, ** = orgue