Boston 28 octobre 2005 - T.D. Banknorth Garden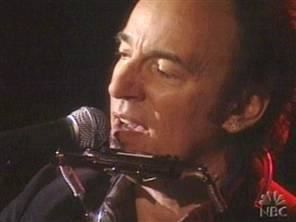 Comme prévu le premier des deux concerts de Boston a été filmé par une équipe technique. Plusieurs caméras ont en effet immortalisé ce concert du Devils & Dust Tour 2005. Ceci explique le caractère assez standard du récital donné à Boston, avec une setlist similaire à celle de Richmond.
Les caméras étaient placées dans le sens de la longueur de la scène, avec plusieurs d'entres elles placées derrière le piano et l'harmonium.
A en juger par la setlist écrite par Bruce, il devait s'agir d'un récital très calibré, mais le Boss a tout de même accepté de chanter deux titres réclamés par le public : Ain't Got You en lieu et place de All the Way Home et Lucky Town à la place de Further On (Up the Road).
Il y eut aussi quelques plaisanteries avec un Bruce qui ne put s'empêcher de taquiner le public bostonien sur les résultats de l'équipe de base-ball des Red Sox.
All That Heaven Will Allow fut dédiée à Obie, un fan de longue date, et Matamoros Banks à Stan Grossfield, du Boston Globe.
Deuxième acte dimanche à Boston.
Setlist 28/10: Idiot's Delight / Living Proof** /Devils & Dust / Lonesome Day / Long Time Comin' / Silver Palomino / You Can Look (But You Better Not Touch)* / The River* / Tougher Than the Rest* / Johnny 99 / Part Man, Part Monkey / Ain't Got You / Reno / Nothing Man* / All That Heaven Will Allow* / Racing in the Street* / The Rising / Lucky Town / Jesus Was an Only Son* / Leah / The Hitter / Matamoros Banks // Growin' Up / My Best Was Never Good Enough / The Promised Land / Dream Baby Dream**
* = piano, ** = orgue