Boston T.D Bank North Garden 21 Avril 2009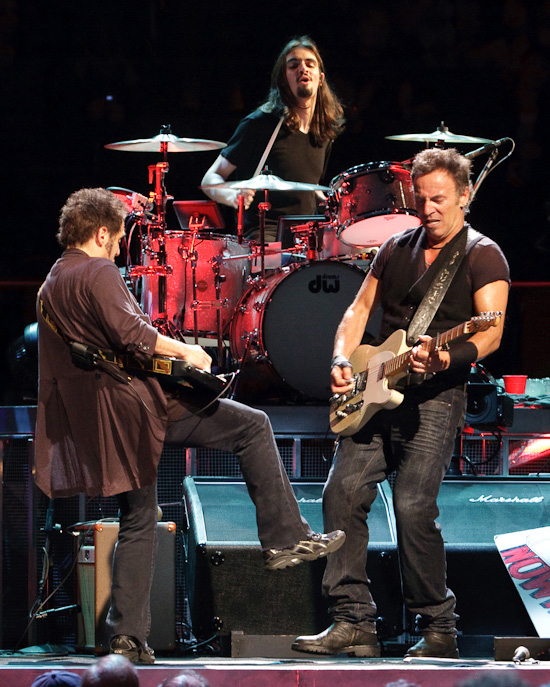 Credit Photo / Adam Saddler
Badlands
Adam Raised a Cain
Outlaw Pete
Out in the Street
Working on a Dream
Seeds
Johnny 99
The Ghost of Tom Joad
Raise Your Hand
I'm Bad, I'm Nationwide
I'm Goin' Down
Growin' Up
Waitin' on a Sunny Day
The Promised Land
The Wrestler
Kingdom of Days
Radio Nowhere (w/ Jay Weinberg)
Lonesome Day (w/ Jay Weinberg)
The Rising (w/ Jay Weinberg)
Born to Run (w/ Jay Weinberg)
* * *
Hard Times
Tenth Avenue Freeze-out
Land of Hope and Dreams
American Land
Rosalita
* Tour Premiere
Premiere des Deux Nuits Consecutifs a la Td Bank North Garden de Boston .
Springsteen a Propose un Show de 2 H 45 ou le Fait marquant de la Soiree Restera cette
Interpretation de
I'm Bad I'm Nationwide
de Zz Top .
Sorti en 1979 Sur l'album Deguelo de Zz Top , ce n'est pas la Premiere Fois Que le Boss s'egosille Sur ce morceau
Deja lors de Divers apparitions au Stone Pony en 1984 et 1987 Springsteen Interpretait ce I'm Bad I'm Natiowide
Mais la Seule Fois Que Bruce a Chantait cette Chanson sur Un Tour Officiel c'etait pendant le Born In the Usa Tour a Philadelphie le 15 Septembre 1984 .
Jay Weinberg Lui apres S'etre essaye sur 2 Chansons a Los Angeles , a Cette fois etait le Batteur du E street Band Le Temps de Quatre Morceaux .
Comme a Los Angeles
The Rising
et
Lonesome Day
on Permit a Jay de S'exprimer avec en Plus
Radio Nowhere
et le Mythique
Born To Run
.
Patti Scalfia Epouse Du Boss etait une Nouvelle Fois Absente , Springsteen S'est Justifie
en Disant Que Patti avait Fait une Mauvaise Chute de Cheval
et Qu'elle Serait de Retour Tres Prochainement .
Voila Ce Qu'on Pouvait dire Sur ce Premier Show a Boston , Des Ce Soir Springsteen Et le Band S'attaqueront de Nouveaux a La Td Bank North Garden de Boston .
Pour Finir Je Vous Propose un Extrait de I'm Bad I'm Nationwide Extrait Officiel Propose Par Brucespringsteen.Net .
Credit Photo / Adam Saddler