Philadelphie Wachovia Center 29 Avril 2009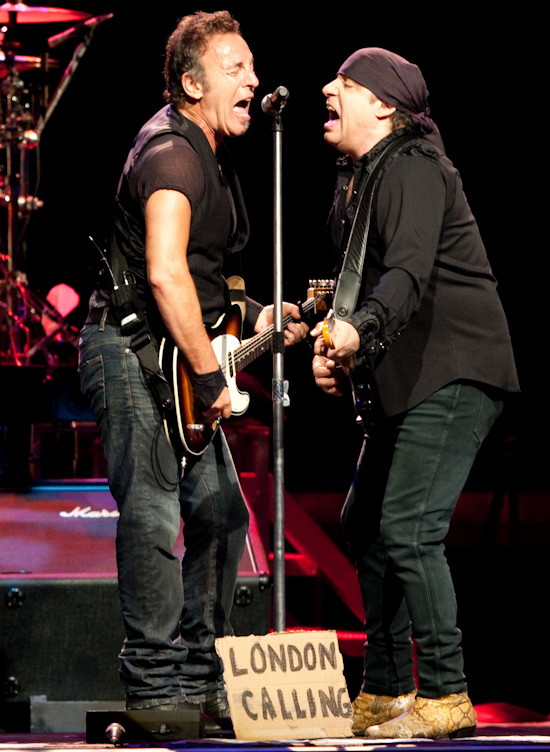 Credit Photo / Michael Zorn
Badlands
The Ties That Bind
Outlaw Pete
Spirit in the Night
Working on a Dream
Seeds
Johnny 99
Youngstown
Raise Your Hand
London Calling
Red Headed Woman
Thundercrack
Hungry Heart
The Promised Land
Streets of Philadelphia
Kingdom of Days (w/ Jay Weinberg)
Radio Nowhere (w/ Jay Weinberg)
Lonesome Day (w/ Jay Weinberg)
The Rising (w/ Jay Weinberg)
Born to Run (w/ Jay Weinberg)
* * *
Hard Times (w/ Jay Weinberg)
Thunder Road (w/ Jay Weinberg)
Tenth Avenue Freeze-out (w/ Jay Weinberg)
Land of Hope and Dreams (w/ Jay Weinberg)
American Land (w/ Jay Weinberg)
Kitty's Back (w/ Jay Weinberg)
* Tour Premiere
Un Springsteen Royal , Voila l'expression qui ressort le Mieux de Cette Seconde Nuit a Philadelphie
5 Tours Premieres oui oui Vous Avez Bien Lu , Un Bruce respirant La Joie de Vivre et une Energie des Grands Soirs .
Bruce continue dans la serie Cover de Groupe Punk Mythique
Apres I Wanna Be Sedated des Ramones , Un Fan de Philadelphie a Propose sur Request
London Calling
au Boss et a ses Acolytes
London Calling Chanson Phare des Clash , Sorti en 1979 Sur l'album London Calling
A ce Jour Springsteen n'avait Perfome cette Chanson qu'a une Seul Reprise , c'etait en 2003 Pendant les Grammy Awards ou Springsteen en Compagnie de Elvis Costello , Dave Grohl et Steve Van Zandt
Rendait Hommage a la Legende Joe Strummer , Leader des Clash .
Red Headed Women
a Fetait a Philadelphie sa Premiere Apparition sur ce Tour 2009 .
Tout Comme
Thundercrack
Chanson Phare des Seventies et
Streets of Philadelphia
Chanson Culte dans L'oeuvre Du Boss et Rarement oublie dans Les Sets
Lorsque Springsteen Se Produit a Philadelphie .
Parlons de Ce Joli Moment
Lorsque le Boss sur
Hungry Heart
partaga Son Micro avec Sa Mere Adele et l'ensemble du Pit .
Apres Un rappel qui Vu la Presence de Jay a la Batterie , Springsteen Conclua son show par une nouvelle Tour Premiere avec ce morceau legendaire Du Boss
Kitty's Back
.
2 h 50 , 26 Chansons , Springsteen a Gate l'audience Presente et il remettra ca des le 02 Mai a Greensboro .
En cadeau je Vous Propose un extrait de London Calling Issue de ce Show .
Credit Photo / Michael Zorn